Based in The Jewel City of California (known more commonly as Glendale), we have a 20 year history in Independent Feature Films, Episodic Television, Music Videos & Commercials, and Web content.
Our Team

Jason Schmid
Executive Producer
Creative Director / Shooter / Senior Editor / Writer
Jason has been working in Hollywood for over fifteen years in virtually every capacity in the business.  His gift for story telling has made him a sought after editor in the independent feature film world and his edgy tv concepts are in development at numerous networks.  While Blue Apples Media continues to grow, Jason finds ways to branch out and explore his creative life in his writing, continually developing scripts for film and TV alike.    He combines his knowledge of modern technical filmmaking techniques, his deep appreciation for classic filmmaking styles, and his studies of the acting process to guide his ever-evolving style. When he is not working, Jason can be found in Los Angeles, working.

Jason Lange
Producer / Director / Shooter/ Editor / Writer
The other Jason has been working in film and digital media for over a decade.  With a range of expertise in all forms of digital media, he often touches projects from inception all the way through completion.  He has produced, shot, and edited two seasons of the cable television series Sex, God, Rock 'n Roll with Stuart Davis, and produced, shot, and edited the award winning documentary film Awakening World.  Jason brings an attention to detail and execution to all his work, and tries to keep up with all the latest digital trends from social media to software.

Jamil Touré
Senior Editor / Producer / Director
With over fifteen years of professional experience to his name, Jamil works as a Director, Producer, Editor, Designer and Writer for film, television, commercial & corporate projects of varying scope and size, thirty second spots, music videos, feature films, indie documentaries, broadcast TV shows, marketing videos, web-based video and advertising content.  Jamil is ultimately responsible, in one or all of the above capacities, for what actually goes on the screen, what the viewer responds to and how they receive the story or message visually, aurally, and emotionally.

Andrew Jewell
Motion Graphics / Visual Effects / Editor
With several years in all areas of post production Andrew has learned to think on his feet and find the quickest solutions to problems. Having a go-to enthusiastic attitude and the aptitude to accomplish whatever is put in-front of him. Excelling in media management from productions to final deliverables. From working as an assistant editor on a multitude of projects to being the visual effects editor in charge of managing 400+ visual effects shots assets. Always pushing his talents in compositing and motion graphics design. Demonstrating his tenacity to expand, by self teaching programs like Shake, Nuke, and Cinema 4D. Andrew is constantly becoming more of an intricate keystone in any post-production work flow.

Alex Wong
Editor / Graphic Design / Shooter / Music Supervisor
Alex is a graduate of the California Polytechnic State University in San Luis Obispo where he studied Graphic Communication.  Since graduating, Alex has worked as a graphic designer, videographer, editor, cameraman, and as a desktop publisher at Apple Computers.  Alex bring s a fresh creative originality to his work that always translates to something exciting on the screen.
I love trying to be able to create something that is both really fantastic looking as well as effectively intoxicating the viewer with emotions that I am aiming to pull out of them.
—Alex Wong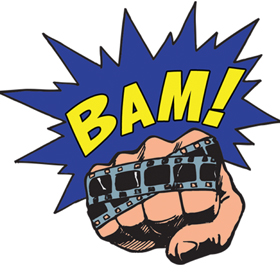 The heroic looking Blue Apples Media Logo was designed by

Dan Povenmire

who created Phineas and Ferb 
We like lists of things delineated with check marks:
lists help to organize thoughts and ideas
using check marks makes it look like things are getting done
check marks give equal value to each item on the list
lists makes you look like you have a plan, even if you don't
making a list is often the first step in making a plan
lists with more than five items feel more thorough